Services
Click on any of the icons below to read more about the various services we offer.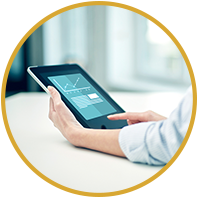 ONLINE REPOSITORY

Clients can conveniently access all of their account information from anywhere, anytime using a secure, online log-in. Transcripts, exhibits, invoices and more can be reviewed, downloaded and annotated on the go. Call us for your unique user name and password.

DEPOSITIONS-ARBITRATIONS-MEETINGS-HEARINGS

DCR provides professional, well-trained reporters for all legal matters both locally and nationally. We are available 24/7, provide quick transcript turnaround and can accommodate last minute scheduling.

MOBILE TRANSCRIPTS WITH HYPERLINKED EXHIBITS

We can provide transcripts in virtually any format including electronic searchable PDF and hard copy, if required. Transcripts can be accessed remotely through our repository 24/7, viewed and edited from mobile devices and contain exhibit linking.

VIDEO CONFERENCING

Video Conferencing allows virtual meetings and depositions to take place from remote locations. We possess all of the necessary equipment and Court Reporting services.

REALTIME

Realtime is a technology that provides immediate access to transcripts on your laptop or iPad. Using CaseViewNet, your court reporter securely streams interactive encrypted realtime testimony to authorized recipients using a FREE CaseViewNet viewer. Recipients can be in the same room as the court reporter or elsewhere using the Internet. Controlled access to testimony is granted by the reporter using a system of access codes and passwords to ensure confidentiality. Click here for more information on this technology and get a free download of the software required.

Conference Room

Take advantage of our two tastefully decorated conferences rooms for your next deposition. We are fully equipped with Wi-Fi, copier, scanner, speaker phone and even a high speed Keurig! We can also provide a break-out room for privacy and discussion with your client and/or colleagues.
Certifications
A New York State Woman-Owned Business Enterprise (WBE)
A County of Erie & City of Buffalo Woman-Owned Business Enterprise